So you've started a home blog. Stuck on what to write about in it? Here are top post types that will conquer new interior design readers and drive repeat traffic to your website.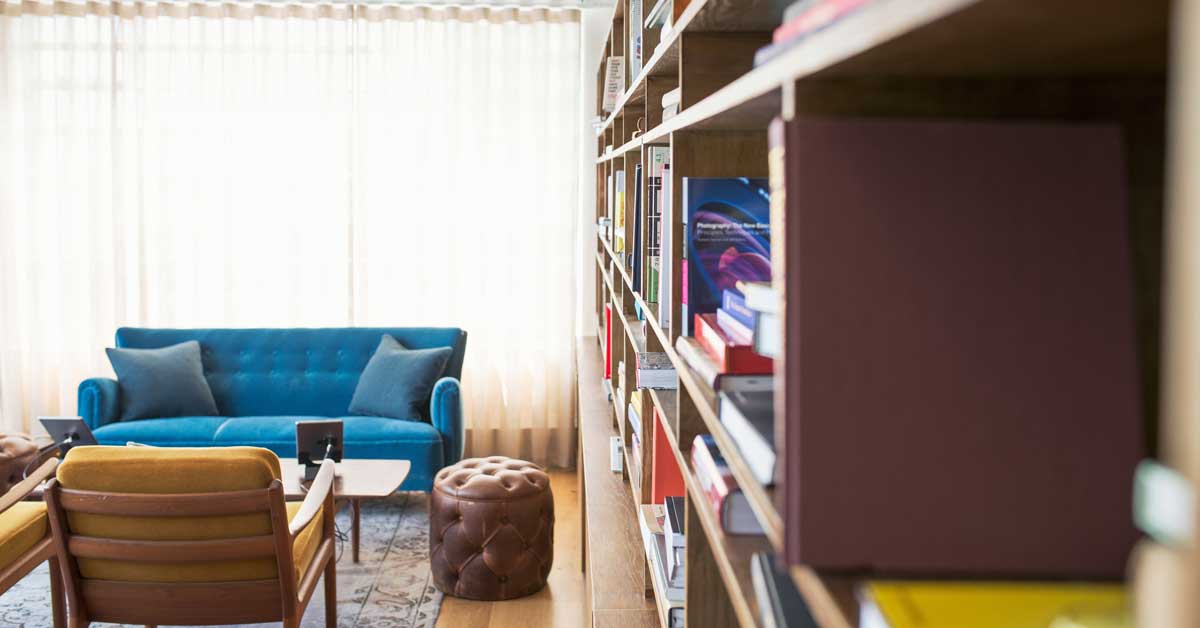 Q&A Posts
Question & Answer posts never fail to psych up readers about decorating. The reason is that Q&A posts are highly focused and easy to understand. They make the entire decorating process seem easier because you're tackling challenges one at a time.
For your home blog, you can start by thinking up all the questions that clients tend to ask you. Or you can scour other people's websites for questions people ask in the comments section.
To save yourself the time, check out my book 550 Interior Design Blog Post Ideas. I've organized it room by room so you can easily pair post ideas with photos from your portfolio.
Before & After Posts
Readers love to see how designers transform spaces. It inspires them and turns you into an authority in their eyes. You should consider including before and after photos on your home blog, as well as floorplans, in these posts.
There's definitely an art to making a renovation article exciting. You don't want to bog it down with details and lose sight of the big picture.
When I wrote articles for This Old House magazine, I made sure to:
tell the story of every house, especially what was wrong with it before
get quotes from people who worked on the house
make it clear how the work solved the problems and improved the owners' lives.
For inspiration check out this page on the Amber Interiors blog.
Listicles
I'm talking about The Top 10, Top 20, My Five Favorite… You get the picture. People love list posts because they make it so easy to identify quality resources worth exploring. Plus, few post types get shared the way that listicles do! Even if your blog is more personal in nature, you can maximize lists to your advantage. 
For ideas, check out some of your favorite interior design magazines online. Really you could do one post per week about your favorite paint colors and readers would never get tired of it.  
Book Reviews
Are there decorating books you love? This is a great way to highlight other designers you admire on your home blog. If you want to get more social media leverage out of it, make sure to email the link to the authors and ask them to share your post link with their followers.
Travel Ideas
Lots of interior design blogs include posts about travel. To make yours more interesting, make sure to include things like your favorite resources in a given place, from shops and restaurants to pretty streets.
This can also be a good way to rank high on Google. On my blog I wrote a post about the prettiest streets in Paris and it ranked on Page 1 of Google searches for that topic! Here's a case study of mine about it. 
As a result it drove a lot of traffic to my blog – and once people got there, the rest of the content kept them reading.
House Tours
Walk readers through your project, room by room, and they will love you for it! To plan a house tour on your blog, think about how people actually like to see houses: They walk through the front door, explore the downstairs, then head upstairs.
You can recreate this by organizing your photos in this order. But really any order is fine as long as readers understand the flow from room to room.
For an example, look at this house tour on the Coco Kelley blog. 
Behind the Scenes Posts
Show your successes and your fails, and readers will quickly turn into loyal fans. With this type of interior design blog post you can take photos of projects in the works, things that didn't turn out as planned, and details that really Wowed you while you were working. This can include photos of things like mood boards you create, or even your notebook with sketches. This is also great for creating crossover posts with Instagram.
Your Opinion on Decorating Styles, Trends, and Products
Are you tired of seeing something overused, or used incorrectly? Is there something you absolutely love? Or a trend that you've just spotted? These posts can easily translate into Pinterest hits if you add a catchy title and some fun photos to back up your point.
Instructions on How to Use Products
Readers love knowing exactly what products you're using in your projects. This can also be an opportunity to make money through sponsored content (that's when advertisers pay you to write a blog posts that include their products in them.)
But rather than just spotlighting products, show readers how to use them. That will make your content even more useful to your fans, and there's a greater chance they'll actually try it themselves at home (and buy stuff you're linking to).
For a good example of what I mean, check out this blog post from the Old Brand New blog, "How We're Revamping Our Home with James Hardie Siding."
Dabito, the blogger, does a good job of explaining what the house project is and why he chose James Hardie products. He also makes sure to highlight the fact that it's a sponsored post by listing that fact at the top. That's important to avoid violating FCC rules about advertising!
Your Tips, Hacks, and Tips
Tips and hacks are fun, they make your readers' decorating easier, and they show you're someone readers can trust for great ideas (so they'll keep coming back to you for more content).
For post ideas, try to come up with titles that include words in the title like: secrets, tricks, hacks, guide, steps. Basically anything related to "how to" should work well!
For inspiration check out the Tips & Tricks section on the Jacquelyn Clark blog.
Helpful Websites and Online Tools You Love
Is there a decorating app you love? A paint color identifier tool on a website? Share these tidbits with readers and they'll come back to your site over and over, to see what's new.
Your Favorite Online Shops
Nowadays most people are buying online, but it can be intimidating to buy something like furniture without seeing it in person first. If readers know you have used certain shops and had a great experience, they'll feel more comfortable doing the same.
Got questions about interior design blogging? Leave a comment below!